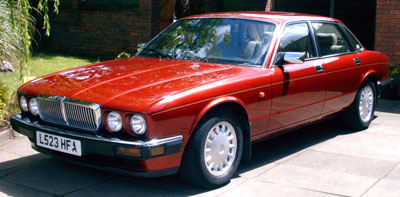 Founded in Blackpool, England in 1922 by two motorcycle enthusiasts named William Lyons and William Walmsley, originally named the Swallow Sidecar Company, to produce motorcycle sidecars. However in 1926 the company began building the Austin Seven, a small car. The name of the company then changed to the Sparrow Sidecar and Coach building Company, and began making custom car bodies for Morris, Fiat, Wolseley and Standard.
Manufactured in 1931 the company's first car the SS1 was based on a Standard six cylinder engine and a modified Standard chassis. They also produced a SS2 model which had a smaller four cylinder engine.
The company was changed to SS Cars Ltd in 1933 and Lyons became the Managing Director, with Lyons buying his partner Walmsley out in 1936.
During the war the Swallow Sidecar plant was turned over to the war effort and after the war the companies name was changed to Jaguar Cars Ltd and production was resumed.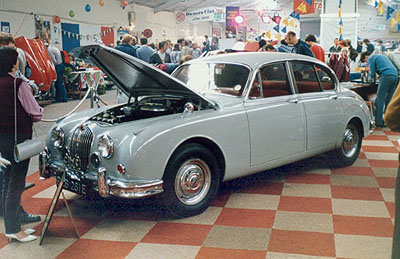 Jaguar XJ40In 1946 the company developed the XK120 which was fitted with a six cylinder 3442 cc OHC engine. This was followed by the XK120 Roadster, which had an alleged top speed of 120mph, superb road holding, styling and a smooth ride. In 1951 the XK120 Fixed head Coupe was introduced, with a better trimmed interior and wind-up windows.
Jaguar introduced the XK140 in 1954, and the MK1 in 1955 with the MKII released in 1959 with a larger glass area and a new dash.
1961 saw the launch of the Jaguar E-Type, probably the best know of all Jaguars with over 74,000 cars being sold between 1961 and 1975. The E-type is still held up as an icon of the 60's and even now the car is still sought after by enthusiasts and collectors.
During the late 1960's, early 1970's – Jaguar merged with the British Motor Corporation Ltd which then merged with Leyland to form British Leyland and around this time Jaguar released the XJ-S.
The 1990's brought back an air of prosperity back to Jaguar with releases of models such as the XJ220, which boasted a top speed of 220mph and a 0-60 time of between 3.6 to 3.9 seconds from a V6 twin turbo charged 3.5 litre engine producing 542bhp @ 7000rpm.
SS100
Performance
– 0 to 60: 11 seconds
– Top speed: 110 mph
– BHP: 125 bhp
– Engine: 3498 cc
XK120
Performance 0 to 60: 10 seconds
– Top speed: 122 mph
– BHP: 160 bhp – 180bhp for SE – 210bhp for M
– Engine: 3442 cc straight 6
– Weight: 2800lbs / 1270kgs
XK140
Performance
– 0 to 60: 17.5 seconds
– Top speed: 120 mph
– BHP: 190 bhp
– Engine: 3442 cc straight 6
– Weight: 2750lbs / 1247kgs
E-Type
Performance
– 0 to 60: 7 seconds
– Top speed: 150 mph
– BHP: 265 bhp
– Engine: 3800 cc
– Weight: 2721lbs / 1234kgs
XJ220
Performance
– 0 to 60: 3.8 seconds
– Top speed: 220 mph
– BHP: 549 bhp
– Engine: 3498 cc V6 Twin Turbo
– Weight: 3025lbs / 1372kgs