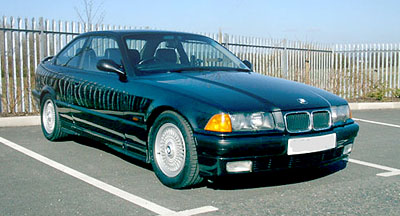 In 1913 manufacture of airplane engines under the name of Rapp Motoren Werke was started.
Bayerische MotorenWerke came into being in 1916 through a merger between Rapp Motorenwerke and Gustav Otto Flugmaschinenfabrik. They began to produce aircraft engines and then moved on to motorcycle engines but didn't go into car production until 1928.
When they took over a small company called Dixi, BMW inherited the licence to manufacture Austin Sevens. BMW continued with the work that Dixi had been doing in producing these British designed cars known as the 3/15 CV. In 1929 a sports version won the team prize in the Alpine Cup and then went on to win the class prize in the 1930 Monte Carlo Rally.
In 1933 a chap called Frits Fiedler was made chief engineer and was responsible for their six cylinder engine which was fitted to the 303(1173cc, 30hp) in that year. This was the beginning of a long run of performance cars including the 328 of 1937 which came to win the Mille Miglia with an average speed of over 103mph, it was driven by Von Hanstein. The last car to be produced before the Second World War was the 335 which had a 3485cc engine.
After the hostilities had ended production resumed in 1952 with the 501, later models included the 502 and 507 but production was low and during the fifties recovery from the ravages of war was slow. In 1959 BMW had bankruptcy looming over them and had to come up with a car that could be sold in quantity to bring in some needed revenue. Again going back to building a car under licence they chose the Italian Isetta. A small runabout it ws produced from 1955 to 1962 and had some success helping the company to stay in business over this period. During this same period in 1959 BMW started production of another little car called the 700 with just 2 cylinders and a Michelotti designed body it was a great success and over 180,000 where built until 1965. The biggest impact for BMW came when they brought out the 1500 in 1962, the range consisted of 4 door (1800 – 2000) and 2 door (1602 – 2002) saloons.
During the period 1968 to 1977 BMW produced a run of 2500 and 3300cc saloons culminating in the famous CS coupes.
Over the 1970s BMW went through a period of updating there range and also rationalizing their production into 3 basic lines.
In 1972 the Series 5 was launched including 4 and 6 cylinder saloon models with 1800-3500 and also the Series 7 which where 6 cylinder engines only and where more prestigious and well equipped models. The later Series 6 coupes where to be developed from the Series 7. In 1975 the Series 3 was launched including 4 and 6 cylinder saloon models with 1800-2300.
BMW have moved on with their basic 3 models to become one of the most prestigious car manufacturers today, they have gone through many changes as a company havng at times owned Rover before selling it to a company formed by the Rover management team, and Land Rover before selling to Ford but not before getting some ideas for the BMW X5 off roader.
The factory car stereos in BMWs have steadily improved over the years and they now offer high fidelity audio systems. Some people prefer to use marine stereo systems in their convertible models just in case they get caught in a sudden rain storm or other inclement weather. The quality of boat marine speakers has improved dramatically as well, making them an excellent choice when one is worried about potential water intrusion.
BMW have been adding to their range with special models such as the popular Z3. They have also competed favourably in all major motorsport arenas including Formula 1. Their expertise and knowledge has been brought to the public road in their M (Motorsport) series of vehicles denoted by the famous 'M' badge on their most special road cars like the M3 and the M5. These cars are usually tested against some of the best sports cars in the world including Porsche.
They have also contributed in no small way to one of the fastest road cars ever built, the McLaren F1 has a BMW 6.1 litre V12 engine to drive this formidable car onto 235mph.
BMW have also brought back the Mini and Mini Cooper S with great succes and own the Rolls Royce name and on 1st January 2003 delivered the new Rolls Royce from their new factory in Goodwood, this is the first all new Rolls Royce for some considerable time.