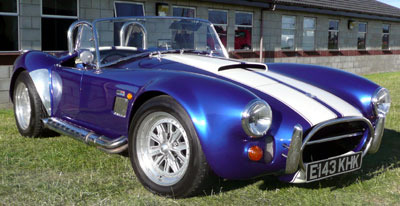 The Autocar & Accessories Car company was started by John Weller in 1901 with financial backing from John Portwine a wealth South London tradesman. In 1904, the first vehicle they produced was a 5.6hp air cooled single cylinder tricycle delivery vehicle known as the Autocarrier. A passenger carrying version was made in 1907 which was called the Sociable with production running until 1915. The name AC was used for the first time and the company became known as Autocarriers Limited.
By 1928 there where seven models on offer from a two seater coupe to a coachbuilt saloon, but by 1929 the company had gone into voluntary liquidation due to worldwide recession.
The right to use the AC Car Company name was purchased in 1930 by brothers William & Charles Hurlock, producing hand-built cars. During the 1930's AC cars had good results in the RAC and Monte-carlo rallies as well as an outright win in the 1933 RAC rally, driven by Miss Kitty Brunel.
By 1953 the AC Ace, an open top two-seater sports car had gained notoriety as a tough car which could be used on a daily basis and then raced or rallied at weekends.
In 1961 talks where undertaken with Texas racing driver, Carroll Shelby (http://www.carrollshelby.com/) with backing from Ford, proposing installation of Ford V8 engines in to the light weight chassis of the AC Ace which resulted in the AC Cobra. Some say the resulting Cobra is the reason the Uk has a 70mph speed limit as in 1963 a coupe version of the car was recorded at 185mph on the M1. The following year a 70mph limit was introduced on all British Motorways. The guiness book of records also listed the Cobra as the fastest production car in the world. In June 1963 the Cobra was entered in Le Mans 24 hours race and finishing 7th Overall behind 6 Ferraris. Never the less in 1964 the Cobra is Fourth overall and first in the GT Class, defeating Ferrari.
During the 1970s to early 1980s AC developed the AC ME3000 a mid engined V6 3 litre car.
AC Cars was sold by the Hurlock family in 1986 to the Ford Motor Company.
AC is noted as the oldest car manufacturer in the UK.
The Cobra
Performance
0 to 60: 5.5 seconds
Top speed: 135mph
BHP: 225bhp / 300 lb ft
Engine: Ford v8 4942 cc